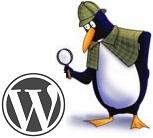 If you have a WordPress blog and you still scraping your head trying to find out why you've been attacked by the Penguin although you did nothing wrong, it just might relate to your blog's theme or plugins.

I recently revealed that there are much more than a few WordPress plugins, widgets and themes that injects hidden links into the page! Google clearly stating on its content guidelines for webmasters that hidden links are a violation of its guidelines which may even result a complete removal from Google index!

Some plugins' developers insert the hidden links so they...
Commentary:
Omri Shabat has put together a great article identifying one of the sources of pain stemming from the recent Google Penguin updates.  He lists a number of plugins and themes that you should definitely review to insure that your website isn't being targeted by Google.  He also mentions a great plugin the Theme Authenticity Checker (TAC) plugin on WordPress that helps insure that whomever you received your theme from didn't load it up with hidden/invisible text and links, which is a big foul in Google's book.
http://wordpress.org/extend/plugins/tac/